Have you always wanted some improvement to how the pawns look, but you didn't want to commit to an anime artstyle? Do you want to breathe some life into your characters, give them… well, character, and make them stand out more? Did you always want to turn your pawns into kings and queens? Now, thanks to The Oracle of Thessia, you can.
Vanilla Textures Expanded – [NL] Facial Animation Mod features
Vanilla Textures Expanded – [NL] Facial Animation is a full retexture that changes the original art style of the mod into a more vanilla art style. Colorful anime eyes will be replaced by a more vanilla black shapes. Noses will be gone while mouths and eyebrows will become much more simple.
We didn't want to make our own Facial Animations mod so instead we decided to stand on the shoulders of giants. For this retexture to work, you need [NL] Facial Animation loaded before Vanilla Textures Expanded – [NL] Facial Animation.
This mod does not add hands or feet.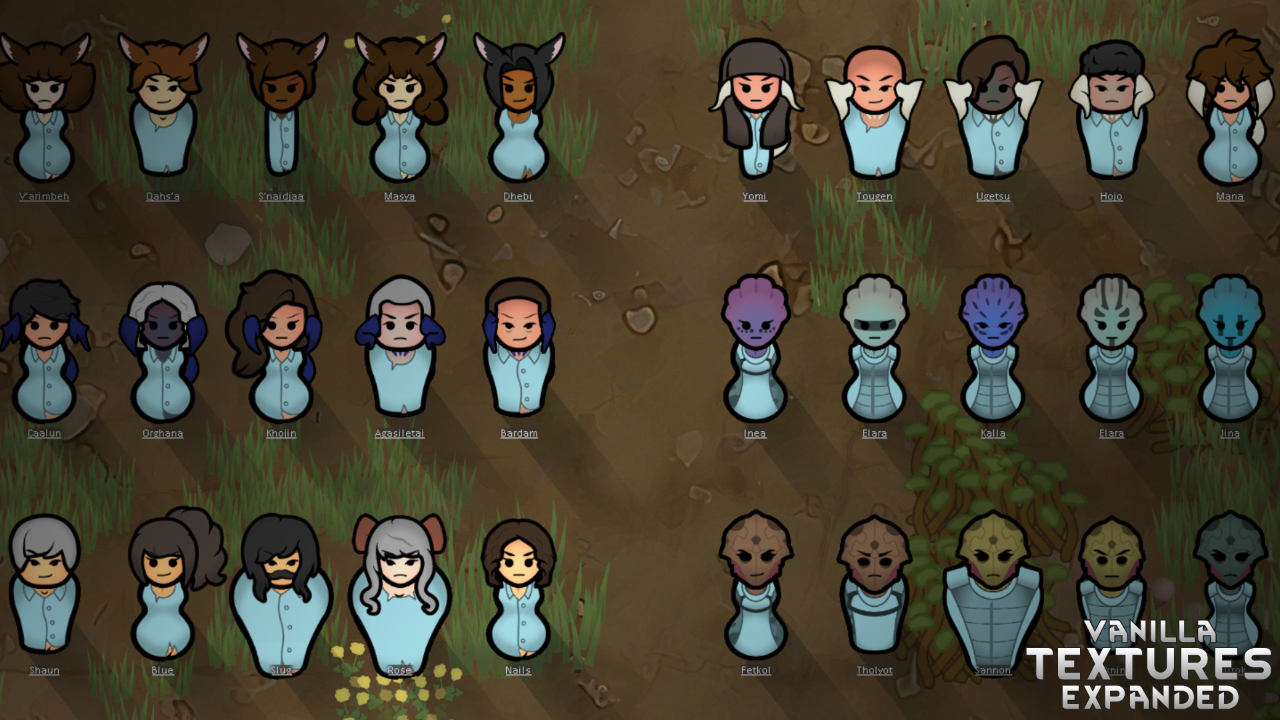 FAQ
Q: Is it a full retexture? Will anime faces still appear in my game?
A: It is a full retexture and anime faces will not appear in your game.
Q: Is this mod CE compatible?
A: Yes?
Q: Is there a performance impact?
A: The only performance issues that occur are caused by the original mod. This is just a retexture and it does not affect performance in any way.
Q: Does this mod have support for alien races?
A: Yes, several alien races are supported: Asari and Drell from RimEffect are two of them!
Q: Is this mod save game compatible?
A: It should be!
Q: Can I customize the faces on my pawns?
A: Absolutely! The mod Character Editor has full support for [NL] Facial Animation, and you can use it to edit the facial features of your pawns – including a few options that are disabled from spawning naturally.
Q: Why did you decide to retexture Facial Animations?
A: I used to use the Facial Stuff mod, and I enjoyed it. It added a lot of extra character to pawns, though it did have some issues that stopped it from being perfect. Since it hasn't been updated in a long time the new option for the field is Facial Animations; an excellent mod, but the art style is a niche one that for my personal taste doesn't fit in with Rimworld. So, I took it upon myself to retexture it. Then once I'd done that, I decided to start adding more options since the mod makes it so easy to do.
Q: Does this mod feature retextures for the body?
A: No, it only features the heads; for body textures I highly recommend the excellent mod Erin's Body Retexture, for high resolution bodies with just that little bit extra detail to really make them look fantastic.
Q: The tattoo textures are really low resolution next to the faces!
A: That isn't really a question, but I did notice that! I'm working with Erin on a new tattoo mod, which will include HD retextures for all of the base tattoos, so that they fit in with these faces. I'll include a link to that here once it's done and released.
Additional credits:
Graphics created by The Oracle of Thessia
Rimworld is owned by Tynan Sylvester.
[NL] Facial Animation – WIP by Nals