The Tech Tattoos Mod adds tattoos with a tech theme.
Tech Tattoos Mod features
This mod adds 13 body tattoos and 15 face tattoos with a "tech" theme. (Some are color variations of the same tattoo such as the power tattoos and the circuity ones).
Body
Circuitry Black
Circuitry Blue
Circuitry Red
Circuitry Green
Circuitry White
Circuitry Gold
Hexagon
Cybertech
Power On
Power Off
Chip
Digital Dreams
Neck Tech
Face
Circuitry Black
Circuitry Blue
Circuitry White
Circuitry Red
Circuitry Green
Circuitry Gold
Augmented Vision A (For all vanilla female heads and vanilla male narrow heads, use this one for facial animation)
Augmented Vision B (For vanilla male normal heads)
Cyberware
Cyber Sleek
Hexagon
Tears In Rain
Error
Digital Dreams
Face Plate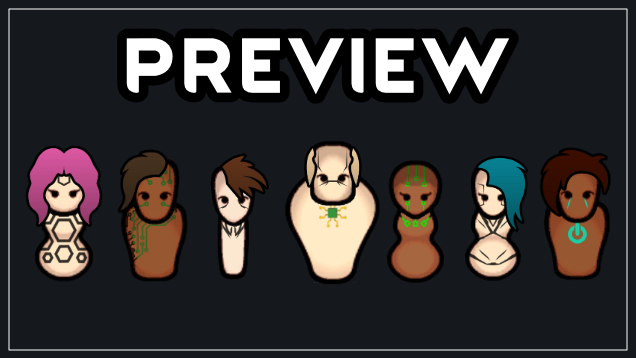 Compatibility notes
Tech Tattoos Mod requires the Ideology DLC in order to work!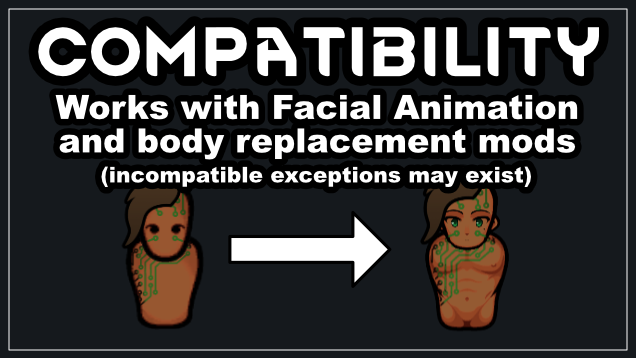 Other Things of Note
Sometimes the tattoos that are colors other than black look darker or a different tone than they're supposed to be depending on a pawn's skin colour. It happens inconsistently and is honestly a total mystery to me.
I've tested these to make sure they fit and work with Facial Animation and Beautiful Bodies since those are mods I use. If you use different face/body replacement mods and run into any issues, please leave a comment so I can make a note of it.
The hairs in the previews are from [O21] Vanilla Hair Retextured
These tattoos have their own style category: Tech; so you shouldn't have any tribals showing up with cyber-tats.
Comments, suggestions, and advice are all appreciated!