The Character Editor Mod adds an editor for humanlike pawns on map and for crashlanding (colonists, enemies, dead pawns).
Character Editor Mod features
Editor for pawns on map and for crashlanding.
Editable: body, head, hair, skin color, apparel color, gender, name, age, skills, passion, traits, backstory, health, needs, thoughts, attraction, relations.
Create, edit, remove, find, load, save pawns.
Edit pawn inventory.
Equip or edit weapons, apparel, items.
Change faction, race, mental state, inspiration.
Recruit, resurrect, heal pawns.
Redress, undress pawns.
Teleport pawns.
How to use the Character Editor
Start the editor from the crashlanding screen.
Start the editor from the main tabs after the map has loaded (near to menu).
Start the editor from mod settings.
Start the editor by entering 'Zombrella' or 'Zombgrella' cascet with pawn.
Start the editor by pressing hotkey HOME/POS1 Button.
How to change the gradient color
Precondition Gradient Hair mod is active.
Click on the Hair-Label to open the color picker dialog.
Select your Color for ColorA or ColorB.
Hints
Click on the 'star' button on the right corner of the pawn image, to activate randomizers.
To choose the color with color picker, click on the hair label or apparel label or skin label.
Click on alien symbol to toggle between (in-game) portrait view and renderer from character editor.
There are 30 slots for pawns. Saved items are limited to 3. Gradient Hair is saved, when available.
'Show weapon' has no effect on alien view.
When starting editor while pawn is selected, then selected pawn will be autom. selected in editor.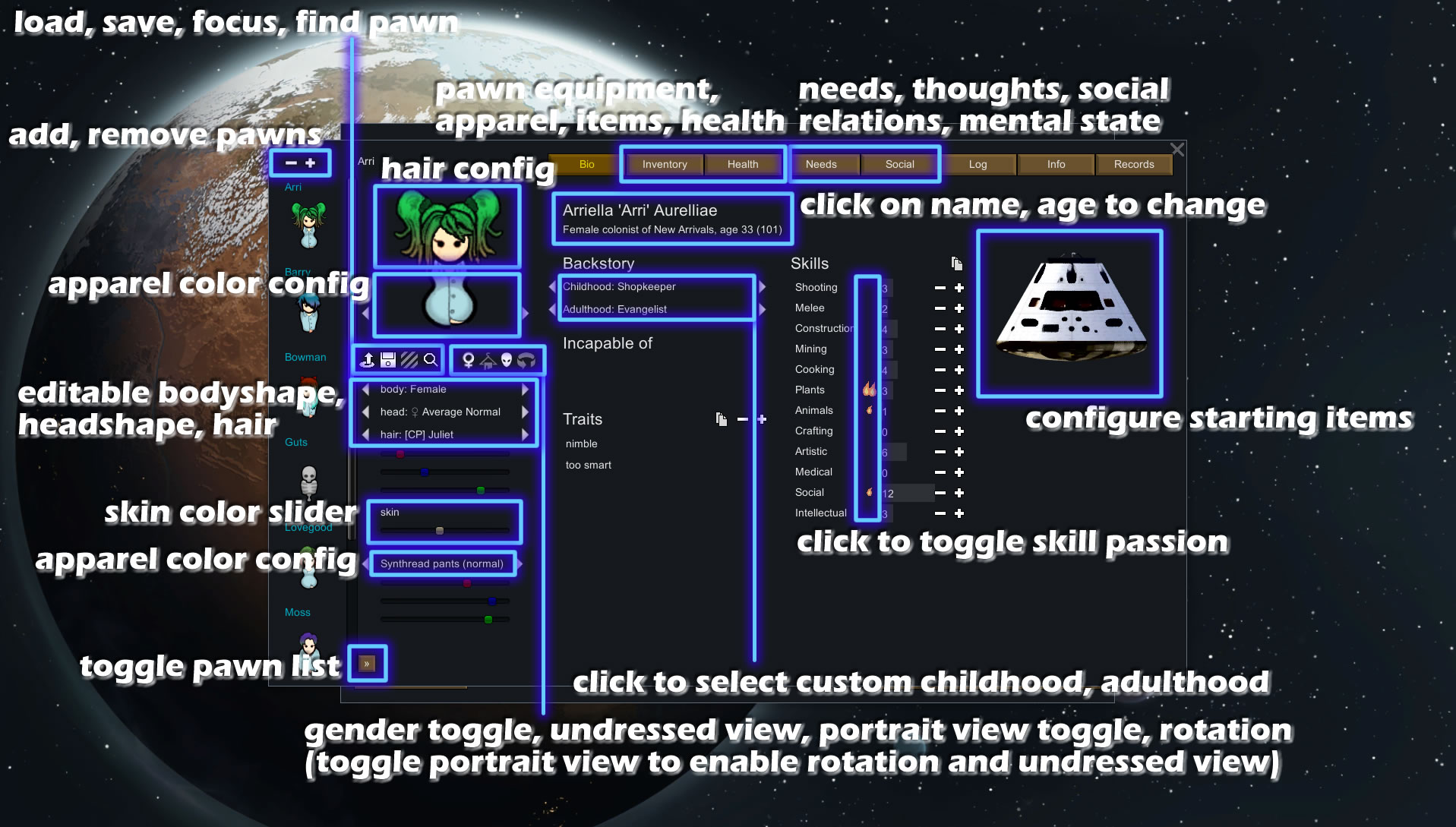 Compatibility notes
The Character Editor Mod should be compatible with every mod, even those that add hairdefs and bodydefs.
Special thanks to: Proxyer for japanese translation and 黄俊浩 for simplified chinese translation.